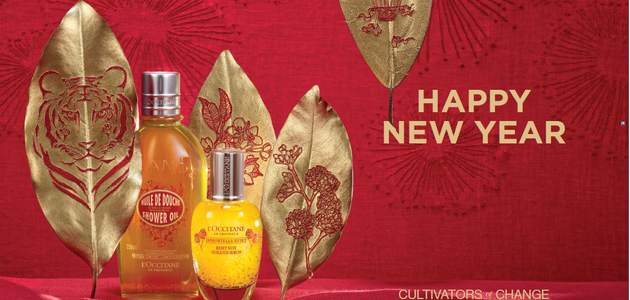 Have A Roaring New Year!
Inspired by the strength and confidence of the Tiger, our Lunar New Year limited edition range of smoothing bestsellers gives your skin the strength and confidence to command the room during the festivities!
Lunar New Year Limited Edition
Here's how you can incorporate our New Year Glow Trio into your LNY skincare routine so your skin looks naturally smooth and radiant at any family gatherings:
Step 1: After cleansing and toning, dispense 1-2 pumps of our most-loved Immortelle Reset Serum to activate your skin cells for stress recovery so your skin can be glowing, rested and soothed.
Step 2: Now that your skin is stress-free, it's time to boost its health! Drip 2-3 drops of our Immortelle Divine Youth Oil onto your palms and warm them up. Gently apply all over your face and neck in an upward movement along your jawline and downward along the side of your neck.
Step 3: Seal in all the Immortelle goodness with our anti-aging Immortelle Divine Cream for firmer, lifted skin with a beautiful V-shaped contour.
Voilà! Repeat this beauty regimen day and night to enjoy your newfound smooth skin that glows naturally!
This Lunar New Year, indulge in a spa-like shower experience for soft, smooth and supple skin with our bestselling Almond body care range! You'll step out of the house with a heavenly Provencal Almond scent that is unique and different from those found in Asia.
Smooth skin starts from the shower!
Step 1: Begin by cleansing and soothing skin with our Almond Shower Oil . Upon contact with water, it magically transforms from an oil to a smooth milky lotion that effectively cleanses skin. Take time to breathe in its heavenly spa-like scent from our Provencal Almonds that has a different scent from those found in Asia. If you feel your skin needs a bit more smoothing goodness, mix your Almond Shower Oil with our Almond Delicious Paste for a gentle exfoliating scrub that leaves your skin soft, smooth and supple.
Soft and supple all day long!
Step 2: To keep your skin soft and smooth all day long, finish your body care routine with our moisturising Almond Milk Concentrate. It has a non-greasy finish that will keep your skin smooth and hydrated for up to 48 hours. (Plus, it has that same heavenly Almond scent!)
Trendy hairstyles may require harsh chemical treatments that can damage your beautiful head of hair in the long run. That is why it is important to treat your scalp and hair to some Tender Loving Care with our range of natural hair care.
Step 1: Beautiful hair starts with a healthy scalp! After harsh chemical treatments, care for your scalp with our Gentle & Balance Shampoo formulated with soothing PDO Lavender essential oil and scalp-strengthening prebiotics.
Step 2: Alternate your shampoo with one of our specially formulated shampoo for your unique hair concerns. Not sure which to pick? Take our 1-minute Hair Care Quiz to find your perfect match!
Step 3: If your hair is feeling dry and unmanageable after your chemical treatment, try our Intensive Repair Hair Mask. Formulated with a hair-smoothing blend of essential oils as well as repairing Black Oat Amino Acids, this fast-acting hair mask needs only 3 to 5 minutes to work its magic. Rinse off and towel dry gently. Use twice a week for best results. S
tep 4: To avoid damage and frizz, apply a small amount of Anti-Frizz Hair Serum onto your damp hair before using any heating tools or hair dryer.
Step 5: Lastly, apply the Intensive Repair Enriched Infused Oil onto hair to transform it from dry and damaged to strong and shiny. The best part? It also softens and tames hair that sticks out, while protecting it against sun damage!