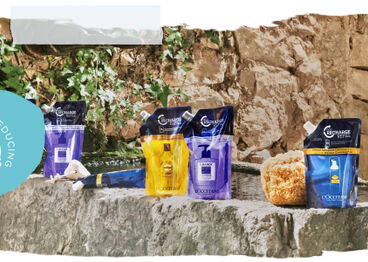 Make it your habit to recycle your beauty empties and be rewarded! L'OCCITANE's Recycling Program is the first in Singapore to accept beauty empties from any beauty brand. This is our commitment to reducing waste and making the world a greener place.
Sign up in our participating stores to start recycling!
Track your Progress!
Do your part today!
Wash and dry your empties thoroughly. Cut open and rinse plastic tubes (such as hand creams) so you don't waste any product inside!

Create a profile with L'OCCITANE to start recycling for rewards!

Drop off your full-sized beauty empties from any brand at selected L'OCCITANE stores

Our beauty advisors will check if your empties are recyclable, clean and dried.

Receive a stamp on your digital recycling stamp card for every full-sized empty accepted!
We accept full-sized beauty empties from ALL beauty brands!
Toiletries: Shower products, scrubs, hand washes
Face care: All face care products excluding sheet masks
Hair care: Shampoos, conditioners, hair masks and non-aerosol sprays
Body care: Body creams, hand creams and deodorant sticks
Fragrances: EDTs, EDPs, roll-ons
Home: Candles, diffuser refills
L'OCCITANE Eco-Refills: all ranges
We currently do not accept these beauty empties:
Make-up products, hair styling products, toothpaste, mouth wash, feminine wash, nail polishes, nail polish removers, eye lotions, eye drops, hand sanitizers, ampoules, consumable products as well as any beauty product in an aerosol can.
Frequently Asked Questions
HOW MANY BEAUTY EMPTIES DO I HAVE TO RECYCLE TO RECEIVE A REWARD?
You will receive a reward with every 10 stamps. That means with 70 beauty empties recycled, you will receive 7 gifts!

WHAT IF I HAVE MORE THAN 70 BEAUTY EMPTIES TO RECYCLE?
That's great! You will restart the rewards collection again from the first gift (10th stamp gift) at your 80th stamp, and so on.

WHERE CAN I DROP OFF MY EMPTIES?
You can drop off your empties at our boutiques in ION Orchard, Vivocity and Plaza Singapura only. Do make sure your empties are clean and dry!

CAN I RECYCLE MY TRAVEL-SIZED BEAUTY EMPTIES?
We are happy to help you recycle your travel-sized beauty empties. However, these will not count towards redemption of treats.

DO I NEED TO EMPTY AND CLEAN THE PRODUCT CONTAINERS BEFORE DROPPING THEM OFF AT THE BOUTIQUE?
Yes, please try to clean and dry the container (where possible, we understand some packaging are difficult to clean) and remove as much of the remaining product as possible. Plastic tubes (such as hand creams) will need to be cut open and cleaned thoroughly before they will be accepted. Do note that we may not be able to accept beauty empties that have not been cleaned and dried properly.

WHO IS YOUR RECYCLING PARTNER?
We are working with iCYCLE Singapore. We have chosen iCYCLE, because they are a recycling solutions provider that allows L'OCCITANE to track where our recyclables are so that we are able to be accountable to our customers.
Loved by Singapore, loves the Earth!