BIG LITTLE THINGS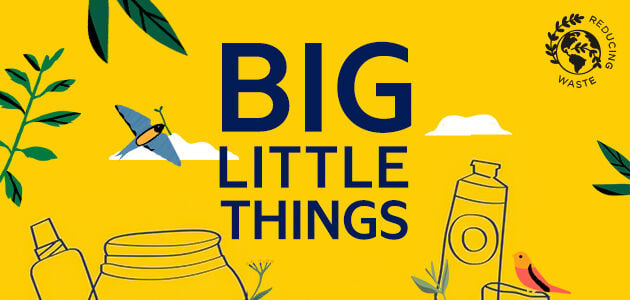 L'OCCITANE Singapore launched the Big Little Things recycling program in 2020 – the first beauty recycling program in Singapore to accept empties from any beauty brand, with no purchase required. ​
⚠️Announcement⚠️
Dear valued customers,
Please note the following changes:​
1) Change in the no. of empties accepted daily​
From 1 January 2023, the return of beauty empties will be capped at 30 quantity daily. Please refer to the list of accepted full-sized beauty empties below.​
2) Program refreshment terms​
Please note that the Big Little Things Program refreshes on 1 April of every year. Kindly redeem your Big Little Things rewards by 31 March 2024.​
Please note that our Big Little Things Program will be taking a break during the peak holiday season from 16 October to 31 December 2023. ​Please visit us again to drop your beauty empties on 1 January 2024.
Thank you for your continuous support for a greener environment.
How to Recycle?
Find out the steps below!
What are the rewards?
Receive L'OCCITANE minis when you recycle your beauty empties!
*From 1 January 2023, the return of beauty empties will be capped at 30 quantity daily.
Where can I drop the empties​?
Currently, our BIG LITTLE THINGS recycling program is only available at ION Orchard, VivoCity, Paragon, Plaza Singapura, Northpoint City and Raffles City L'OCCITANE outlets.
Other Big Little Things Initiative​
By switching to our Eco-Refills, you get to save up to 33%* vs their original price. All you need to do is switch to our Eco-Refills to save up to 97% packaging vs their original containers.
Refill fountain is our revolutionary zero-plastic alternative that gives you the choice to enjoy your favorite L'OCCITANE shower products without the need for new plastic bottles.​ ​​
Visit our Refill Fountain store at ION Orchard #B2-39 and Raffles City #01-43A to refill! You can choose to bring your own clean and dried L'OCCITANE bottle* or purchase an aluminum Forever Bottle at the store.​ ​​
Our refill fountain currently has a selection of 5 shower products, with more products coming soon in the future!​ ​​ ​​
*T&Cs apply
Frequently Asked Questions
How many beauty empties do I have to recycle to receive a reward?​
You will receive a reward with every 10 stamps. That means with 100 beauty empties recycled, you will receive 10 gifts!​
What can be recycled?​
You may recycle full-sized beauty empties from any brand. ​We are happy to help you recycle your travel-sized beauty empties. However, these
will not count towards redemption of treats.​We currently do not have the processes in place to recycle other types of plastic packaging, such as drinks
bottles or make-up empties. These are the products that we accept:​
Toiletries: shower products, scrubs, hand washes Face care: all face care products excluding sheet mask, skincare capsules and cleansing pad​
Hair care: shampoos, conditioners, hair masks and non-aerosol sprays​
Body care: body creams, hand creams and deodorant sticks​
Fragrances: edts, edps, roll-ons​
Home: candles, diffuser refills L'OCCITANE​
Eco-refills: all ranges.​
For empties without labels, please provide an image of the bottle so that our Beauty Advisors can identify the brand and size of empty.
Please refer to the full list of acceptable empties and sizes under Big Little Things Program.​
Do I need to empty and clean the product containers before bringing it to the store?​
Yes. As a basic rule for recycling, all empties MUST be cleaned and dried to avoid contaminating other clean empties. There are no cleaning facilities or services provided in-stores. Please note that we do not accept any unopened beauty empties.​
Apart from recycling beauty empties, what else can I do to earn stamps?​
Choose to skip a paper bag when you shop in L'OCCITANE boutiques excluding L'OCCITANE Takashimaya Outlet, web store, En Demande, Shopee, Lazada and duty-free stores. You will be awarded 1 stamp for every transaction made without paper bags.​
*Limited to one stamp per transaction. Limited to one redemption per day.​