HOW TO BUILD YOUR SKIN CARE ROUTINE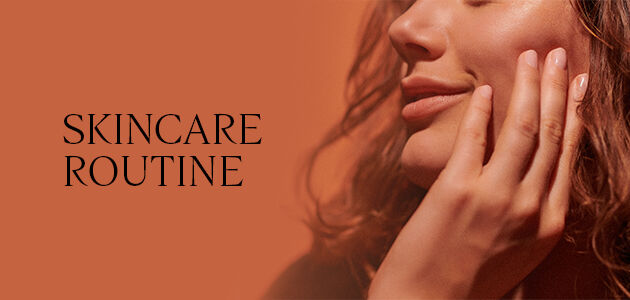 Ever wondered what order should you be using your products in? Achieve glowing, healthy skin with our step by step skin care routine.
An easy way to remember your skin care routine order is to apply your products in order of thickness, starting with the thinnest or lightest products, and finishing with the thickest creams. This allows your skin to absorb each product the best it can!
Skincare Routine
STEP 1 | CLEANSE
It's important for all skin types to cleanse every morning and night to remove makeup, impurities, dead skin cells and excess oils. For a more intense cleanse, try double cleansing, which uses two different cleansers to target both oil- and water-based impurities.
STEP 2 | STRENGTHEN SKIN BARRIER
Immortelle Reset Triphase Essence helps maintain skin balance and strengthen the skin barrier for visibly improved skin quality and healthy-looking glow. Enriched in powerful botanicals of Prebiotic, Immortelle essential oil and Acmella, this essence acts as the first treatment in your skincare routine to maintain your skin's balance and strengthen your skin barrier for a more radiant complexion.
After cleansing, shake well to activate the essence then spray 3 doses directly into the palm of your hand or onto a clean cotton pad. Pat the product onto your skin gently. You can even spray it directly onto your face throughout the day for an extra hydration boost!
STEP 3 | EYE CREAM
The delicate skin under your eyes is extremely thin and sensitive and can be one of the first places to show signs of aging as well as stress and fatigue. Eye care and eye creams contain targeted ingredients to help keep your eyes glowing.
A light massage of pressure points around the eye can improve the effectiveness of our eye care products. Start at the inner corner of your eyebrow and move outward, then repeat from the inner corner of your eye towards the outer corner.
STEP 4 | POWER DUO
Our iconic pair for glowing skin!
Start by resetting your signs of stress, glow, and hydration with our Immortelle Reset Serum. The lightweight gel serum contains thousands of anti-oxidant Immortelle bubbles to fight oxidative stress that your skin experiences throughout the day. Dispense 3 pumps of Immortelle Reset Serum onto your palms. Warm it up and breathe in its scent deeply. Apply Immortelle Reset by smoothing it over your cheeks and forehead.
Follow with our glow-boosting Divine Youth Oil. Think of it as a supplement for your skin. It contains vitamins A, C, E, Omegas 3, 6, 9, as well as a natural retinol alternative — Immortelle Super Extract — to strengthen your skin and improve its health with regular use. All you need is a few drops to experience its powerful effects. Warm it up in your palms and pat it onto your skin gently.
STEP 5 | SERUM
Thanks to active ingredients that penetrate quickly and deeply into the skin, serums repair and protect your skin against the problems of ageing, hydration or hyperpigmentation. Our serums use the finest ingredients from Provence, formulated in a powerful concentration to target all of your skin's needs.
Apply your serum to face and neck, morning and evening, massaging into clean, dry skin.
Find the perfect serum to answer your concerns with our Skin Care Diagnosis Quiz.
STEP 6 | MOISTURIZE
Moisturizers lock in the benefit of your skin care routine with a protective layer of hydration.
Warm up a coin-sized amount in your palms and smooth onto your face and neck, morning and evening, You may prefer to use a lighter moisturizer during the day and a more nourishing one in the night, to match your skin natural rhythm and needs,